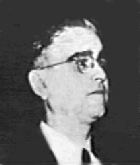 José Enrique Pedreira
Para versión en Español oprima AQUI
José Enrique Pedreira was born in San Juan, Puerto Rico on February 1st. 1904. He began his musical studies at an early age and as soon as he graduated from high school he moved to New York where he became a piano and composition students under Segismund Stojowski, graduating in 1932. Back in Puerto Rico he established "Pedreira's Piano Academy", in collaboration with his wife, Doña Alicia Hutchinson.
He used his free time to compose for piano, violin, voice and cello. His work have received prizes from many institutions, like: the "Ateneo de Puerto Rico" (1943), the University of Puerto Rico (1935), the Juiliard School of Music ( for his beautiful danza "Tus caricias" in 1946), the Ladies Civic Club of San Juan (1950), and the Institute of Puerto Rican Culture where he received a prize for his exquisite danza for piano "Siempre" (Always) written in commemoration of Juan Morel Campos birth date.
Pedreira's musical production could be synthesized in the following tittles: Concert Waltzes, "Stone Garden" ballet, Concert for piano and orchestra (orchestrated by Don Jesús Figueroa, "Elegía India, Poema y Souvenir", all these works written for violin and piano and dedicated to his brother in law, great violinist Henry Hutchinson (sir). Aside from the previously mentioned danzas, it is worth also mentioning Ensueño de Marta, Encanto, Súplica y Colibrí.
He died in 1959. In 1985 he was inducted into the Círculo de Recreo de San Germán's Hall of Fame. There is a photo of this occasion in my personal historic photos album, HERE where you can see his widow and several other danza composers.
* * * * *