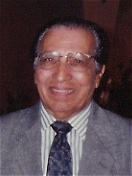 Guillermo Figueroa
Para versión en Español oprima AQUI
Guillermo Figueroa was born in Río Piedras, Puerto Rico (c.1910). He studied at the "Ecole Normal de Musique de Paris". He was a regular member of Alfred Cortot's Chamber Music Orchestra, and of the Ecole Normal's Quartet. When he graduated he was awarded the "License de Concert". For many years he was the first viola of the Puerto Rico Symphony Orchestra, which he also conducted later.
As member of the Figueroa Quintet since 1938 he toured Europe, Center and South America, United States and the Caribbean.
He participated regularly in the danza composition contests held by the Institute of Puerto Rican Culture and the Círculo de Recreo de San Germán, winning several prizes. In April 30, 2000 he was inducted in the the Circulo de Recreo's Danza Composer's Hall of Fame. Two members of his family are also very well known danza composers: his father Don Jesús Figueroa and his brother Narciso.
Don Guillermo Figueroa passed away in August 2001.

Recordings
Some of Don Guillermo's danzas are available in a recording by Círculo de Recreo de San Germán. You might order them by clicking on the CD below


* * * * *